Best Baby Changing Pads to buy in 2022
No parent wants to wake up to a fussy, crying baby. One of the reasons your little angel is troubled is because she would have soiled her nappy and while she waits, it might be an uncomfortable experience for her to change into a new diaper. You as a new mom have a lot of responsibilities caring for your little one, and you are a bit tired. With all these new experiences occurring daily, how do you ensure that you provide maximum comfort to your little one and enjoy the journey of motherhood? By picking up the right products to aid you in your journey starting with the best baby changing pad in the market.
Babies can have different skin types so you will have to pick out a changing pad which does not cause any rashes or itchiness and make her uncomfortable on the changing pad. Also, the changing pad also needs to be comfortable and fluid and stain-resistant to avoid infections. With hundreds of changing pads for babies available in the market, how do you pick the right one?
Best
Change Pads for Babies
To keep your baby happy and laughing even through a changing we have curated a list of top 4 products in the market. Read on to know more about each one of the products
1. MoBaby Portable Changing Pad
Changing a pad can be uncomfortable for a baby sometimes. With this portable baby diaper changing pad, you will be able to turn this unpleasant chore into something that your baby gets used to and feels comfortable. This padded changing pad comes with a portable change clutch that can hold all the items necessary to change the baby. The slim, folded design is sleek, and you can travel with it comfortably by strapping it around your wrist or clipping it to the baby's pram.
Pros
Pros
Made from soft, luxurious fabric
Comfortable for baby – it is padded and has a headrest
Numerous pouches and pockets to fit all the essentials
Free from harsh chemicals and skin-irritants
Machine-washable. You can also remove stains using a baby wipe to do spot-cleaning.
Cons
Cons
A couple of reviewers found it bulky. However, most others found it lightweight and convenient for travel.
Why Will You Like This Product?
You will love this product has it is completely lightweight, cushioned, and portable. It is one of the best chemical and irritant-free changing pads for babies.
2. BlueSnail Portable Changing Pad
Your little one signals a diaper change with crying and you as a mother know that you have to change it quickly so that your baby feels dry. Turn this activity into a pleasant one for your little one with this portable changing pad which comes with a changing clutch to carry all the baby's essentials.
Pros
Pros
Large-sized to protect the baby's entire body
Waterproof and can be effortlessly cleaned with a wipe or hand-washed and air-dried
Portable, lightweight, and perfect for travel
Made with non-toxic, BPA-free material
Cons
Cons
Some reviewers found it difficult to fold it one-handed while holding the baby
Why Will You Like This Product?
You will like this changing pad as it is large-sized, waterproof, and portable. The non-toxic material is an added advantage.
3. Keekaroo Peanut Changer
Your little angel will be quiet and calm while changing the pad if you use the right diaper changing pad underneath them. This diaper changing pad is made of solid polymer and is impermeable to fluids. Therefore, it does not need any extra sheets or liners that other changing pads require.
Pros
Pros
Made from non-toxic polymer
Soft, comfortable surface with side-walls and contoured edges
Has a safety belt to keep the baby in place when your hand are busy
It is resistant to breakage and cracks
It is easily cleaned by wiping down the solid surface and is water resistant
It minimizes bacterial growth
Cons
Cons
It is not portable
Some reviewers found that the new pad came with an oily residue that had to be wiped off entirely before the first use
Why Will You Like This Product?
This changing pad is sturdy and durable. It can be cleaned easily and is stain and fluid-resistant.
4. Summer Infant Contoured Changing Pad
This diamond-quilted changing pad can be used anywhere as it contours into the furniture. You can keep the baby safe and secure within the changing pad while you wipe your baby clean with a baby wipe and change her diaper. The soft foam material will keep your baby's bottom warm and comfortable during the entire process.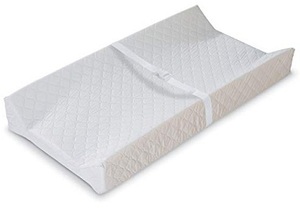 Pros
Pros
Double-quilted design
100% waterproof material used
Secure strap underneath to use it on any furniture
Non-skid bottom
Portable
2 sided contoured walls
Cons
Cons
There are no accompanying bags to dispose of the pads
It does not have any fragrance
Why Will You Like This Product?
This product is wonderful as it keeps the baby's safety in mind while changing. The belt will keep the baby in place while you change her diaper and the soft foam pad is almost like a mattress which will put a smile on your baby's face while you change.
Why Do We Recommend These Products?
Being a new mother is both a thrilling and a daunting journey and changing a diaper can be one of those tasks that can sometimes become tiresome. A new baby will pee and poop a lot as she adjusts to your breast milk and baby food. This means that it can be a tiresome experience for the baby as well. So to avoid diaper rash, infection, and uncomfortable sensations, it is good to know the best baby changing pads in the market. A happy baby means a happy and calm mother. Therefore, to prioritize your baby's comfort, you need to keep the following things in mind while picking up a pad.
Chemical free and toxic free
Lightweight
Leak-proof
Soft and comfortable
Portable
You can turn a seemingly difficult task into a delightful one by using the right products. Help your baby achieve maximum comfort by picking up a changing pad from this carefully curated list to help you on your journey as a new mom.