Best Baby Shower Gifts Ideas
Babies bring happiness to families and among friends like little else does. And nothing prepares a woman who is about to become a mom for this new chapter in her life than the baby shower. One of the best aspects of a shower is that it allows her friends and family to set her on the path of motherhood in any way they can. The ideal baby shower present is neither expensive nor enormous; it's just the most thoughtful.
A baby shower is a correct opportunity for you to gift the new mom-to-be a useful gift that will help her care for her baby in the days to come. There are numerous choices available in the market today, and you can choose from among swaddle blankets, baby bath accessories, infant clothes, diaper genies, appliances to help make baby food, picture frame kits, and so much more. Coordinate with the other people attending the baby shower to make sure that the gifts are not duplicated.
Best Gifts for Baby Shower
We bring you a list of the best baby shower gifts you could get that one mama-to-be in your life.
1. MyMiniJoy Newborn Baby Handprint Frame Kit
Kids grow fast, and one of the hardest things that parents have to go through are missed moments and memories. When it comes to baby showers, nothing says personalized more than a creative keepsake that makes sure a mom-to-be can remember exactly how her little one was in his or her first few days. The frame kit comes with clay that can preserve the imprint of your child's hands and feet, along with two other slots for the baby's earliest photographs!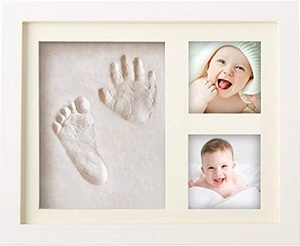 Pros
Pros
The clay is soft and certifiably non-toxic. It doesn't require any treatment and air dries after 48 hours.
The frame is protected by unbreakable acrylic glass and made of eco-friendly pine wood.
Cons
Cons
Some reviewers point out that for newborns, the clay needs some water to soften up and reduce the risk of pressing the baby's foot too hard on it.
Why Will You Like This Product?
The gift makes for an instant trip down memory lane, not just for a kid's parents but also for grandparents and other relatives who would be more than happy to decorate their homes with an aesthetically pleasing reminder of their beloved little boy or girl. Reviewers point out that the clay never leaves any residue on the child's foot and hand!
2. TWiNKLeToeS Baby Socks Gift Set
Babies are always in need of socks to keep their little feet warm. But what to buy for a baby shower that would make a harried parent light up immediately in the middle of a tough night of parenting? A sock that speaks! That's right; these are socks with quirky quotes on them, designed to reflect what a baby is most likely to be feeling. This cheeky baby shower gift is for the humor-loving mama in your life!
Pros
Pros
These combed cotton baby socks are deadly soft and come with just the right amount of spandex to ensure that they can be stretched for babies between two to 16 months!
The socks come in packs of four (so you always have a quick change at hand!) and in neutral colors of grey, cream, white and fawn.
Cons
Cons
The edges of the letters in the quotes are sometimes not too well-defined, making the words too blurry to read.
Why Will You Like This Product?
Imagine a pair of tiny baby feet with the words, 'if you can read this, bring me some milk' on them. If you already have a smile on your face, you know what makes this gift a thoughtful one for a parent raring to start a journey of love and laughter.
3. Blooming Bath Lotus – Baby Bath
Traditional baby baths are at best boring and at worst, a nightmare to fit comfortably into the sink. But here comes a plush cushion flower that not only fits every sink but also makes sure that your baby is snug inside as he or she bathes. This bath tub is lovely, and you have only to visualize how adorable a tiny child is going to look nestled inside a soft blooming flower!
Pros
Pros
It's incredibly easy to clean and dry. Hand-wring the excess water after the bath and place it in the dryer for a maximum of 15 minutes.
The baby remains warm inside the bath for a considerably longer period than in other baths.
Cons
Cons
The hand-wringing and drying process takes up to 48 hours.
Why Will You Like This Product?
Its cuteness quotient is unparalleled and the fact that it's suitable for kids till the time they are up to six months old makes sure that it's one of the best baby shower gift ideas. It's also BPA and Phthalate-free, ensuring a safe bath for your blooming baby, always.
4. Ocean Drop Designs-White Muslin Baby Swaddle Blanket
One of the most vital parts of early parenthood is swaddling your child as he or she enjoys the quietest of sleep. One of the best gifts for newly born baby boys and girls makes sure you leave a tender message for the new parent, each time she lays out the luscious muslin to wrap her child in. Bonus points for this baby shower gift if you are about to give it to your goddaughter or godson's mom!
Pros
Pros
The square blanket can be used for a multitude of purposes — from a play mat to a temporary throw.
The machine washable fabric is gentle on any newborn's skin and gets softer with every wash!
Cons
Cons
Some reviewers stress that the material might be too thin to cover the baby satisfactorily.
The font of the quote varies from blanket to blanket and can be unclear at times.
Why Will You Like This Product?
Any stark white baby blanket with letters that spell out a little poem of heartfelt love and tenderness is a great gift at a baby shower, but what makes this blanket especially meaningful is its stirring emotional value. If you are the person to whom objects of everyday use are significant, then this is the gift you would gift the mom-to-be in your life.
5. Magic Bullet Baby Bullet Baby Care System
New parents are sure to have their hands full. One of the best baby shower gift ideas is the very set that will make sure that their workload is reduced by half and that they actually get to spend some time with their newborn? With the Baby Bullet, a parent can make a week's worth of healthy baby food in only five minutes and store the daily batches in six clear cups.
Pros
Pros
The set comes with an enormous array of additions in addition to the cups — a spatula, a short cup, a tip-proof tray, a recipe book, a pocket nutritionist, a power base, a batch bowl, a baby blend blade, a milling blade and an easy pop silicone batch tray.
You can refrigerate up to 12 ounces of your prepared baby food in the storage cups and take them out whenever needed during the course of the week.
The date dials on the individual cups are easy to use, and the planning helps save money in the long run.
Cons
Cons
Reviewers say the rubber lining the mixer's blades begin to wear off after a few months.
Why Will You Like This Product?
This is for the mom and dad who like to be on top of things when it comes to their lives and their baby. No longer will they have to go scurrying for baby food when the child is screaming on top of their lungs, they now have an organiser's favorite gift in their own kitchen!
6. Artyish Premium Hooded Baby Towel
This organic bamboo fabric towel is 80% more absorbable than a host of other hooded towels, but what sets it apart (aside from the obvious benefit of seeing a tiny tot in a bear-shaped towel!) is its incredible softness. Bathtime is already fun for kids, but with a cute bear in the game, it'll be a fun time to remember.
Pros
Pros
It is large enough to fit a five-year-old baby as well, so you can rest assured that a parent you gift this to does not have to go looking for a baby towel any time soon.
The towel is antibacterial and hypoallergenic. It is also environment-friendly.
Cons
Cons
The towel feels less soft after a few washes, say a few reviewers.
The 'ears' of the bear hood have come apart for some reviewers.
Why Will You Like This Product?
Gifts for baby showers need not be elaborate. Every child loves animals, and every parent likes a child who is happy. A bath towel not only takes care of an everyday need but also forms a great memento for a child to grow up with and store in the days to come.
7. 7Senses Diaper Bag For Girls And Boys
One of the most challenging parts of going out with a newborn is making sure that you have packed all the essentials you may ever need, and that includes more than enough diapers, a change of clothes, a toy and almost anything else you can think of! Naturally, the very best present to give a mom at her baby shower is this spacious bag that comes with its own diaper changing pad and robust shoulder straps.
Pros
Pros
The bag has an astounding 10 pockets — a zipped main compartment, two big magnetic closure pockets which can help keep dirty clothing separate, two side pockets on the outside, five inside pockets for bottles and an insulated one.
While this bag is spacious, it is not bulky, and its grey canvas material ensures its style quotient is kept up.
Cons
Cons
A section of reviewers finds the bag itself too heavy.
Why Will You Like This Product?
The bag is extremely durable and can well be used from the time the baby is a newborn, well into his or her young adulthood. With separated pockets, the bag also ensures parents can carry their own personal belongings in the same bag.
8. KiddyStar Bandana Baby Bib Set
Babies drool all the time, and while it can be a chore to change their clothes ever so often, a set of eight bibs that come in the most exciting of prints is surely one way to help a new parent relax a little. What's more? The bibs come in the form of a bandana, which will make your little one look straight out of the sets of a Western film!
Pros
Pros
The cotton and polyester fleece double-layering ensure that all moisture is absorbed and retained, without wetting the baby.
The bandanas can be adjusted with the help of two nickel-free snaps.
Cons
Cons
The bib, say some reviewers, is too thin.
Why Will You Like This Product?
It is a helpful baby shower gift for any mom who would prefer a cuter alternative to handle her child without changing an outfit every few minutes. Soft and fun, it'll make you very popular at the gift opening ceremony!
Why Do We Recommend These Products?
Baby showers are special because for any parent, especially a mom; it is a sure reminder that things are about to change with the arrival of a new life.
Parenthood can be challenging, but you can help reduce the challenge with a well thought out gift at this time. Whether you are shopping for your friend, a colleague, or a relative, unique baby shower gifts will make you a part of the child's journey in growing up. The more use the parents get out of it, the more significant you become in the child's story. So why not choose a present that is cute and an effective way to beat the usual stresses of new parenthood?