Best Piano for Kids & Toddlers of 2022
Make your child's journey of childhood joyful and melodious. As caregivers, we need to find innovative ways to help in developing a child's early communication and social developmental skills. Children who participate in interactive music classes or play a musical instrument like the piano develop active listening skills, sensory awareness, have fine and gross motor skills and recognize patterns through rhythm, meter, the tempo of the lesson flow. Besides an early appreciation for music, a piano for kids helps in parent-child bonding. Apart from being entertaining, a toddler piano toy can do much more than you think. Incorporate music into your child's daily routine and see the difference it does to your child's emotional well-being, behavior, and creativity.
The idea is to get your child used to playing keys, hearing tones, and thinking musically, which can work wonders for developing cognitive skills. However when buying, consider the capacity, the number of keys, its apps and features, price, and right size of a piano that is suitable for your child's age.
Best Piano Toy for Toddlers
There are pianos in multiple brands and options for kids and toddlers that are committed to quality, style, safety, and durability.
1. VTech Record & Learn KidiStudio
Among the early educational toys, this little kids piano in a bright color will surely appeal to your child's interest. 3-6-year-old kids can record and playback their music as it comes with a real microphone and voice changer. Soon your child will pretend to play the foot tapping music of rock and roll, jazz, and techno beat with great enthusiasm.
Pros
Pros
Frustration-free easy packaging
More than 40 songs and sound effects.
Keyboard lights follow the rhythmic pattern of music like jazz, techno and rock, and roll music.
Cons
Cons
It is little more expensive than regular pianos.
Why Will You Like This Product?
This piano for kids makes an ideal birthday gift for a toddler. By practicing pretend play, social skills develop faster for a child.
2. Melissa and Dough Learn To Play Classic Grand Piano
Looking for the best piano for toddlers that compliment your child's natural talent? This piano has a classic look of a grand piano with thoughtful details and super functionality.
Pros
Pros
It comes with a comfortable non-tip bench that has the right size and height for a toddler.
The lid can be opened and closed by the safety hinges.
It comes with a color-coded songbook with a key chart that is easy to use.
Made of sturdy wood
Cons
Cons
Need to be careful while assembling its small parts made of plastic, wood, and metal.
Why Will You Like This Product?
As the child grows, you can introduce music by hand-holding their fingers to play on the mini keyboard that has 30 hand-tuned keys. Sing along with your child's favorite rhymes and spend a musical evening together.
3. SGILE Piano Toy For kids
In comparison to the traditional piano, toddler keyboards are more flexible and comfortable to use. It's pink, and a multi-functional keyboard includes features like three cool teaching modes, six instruments sounds, six different styles of accompaniment, eight percussion sound effects, twenty-four demo tracks that will surely motivate your child to delve into the fascinating world of soulful music.
Pros
Pros
Comes with an exquisite piano music stand, audio cable, instruction manual, support rod, piano foot, and music stand.
It has a recording and playback option-The volume, and pace of the song recorded can be adjusted.
Includes a comfortable stool and a removable microphone that can be held by the hand. Its stand can be adjusted to the direction of the voice for encouraging the child to sing with full confidence.
Cons
Cons
Need to keep the piano away from damp or heat
Made of ABS plastic which is not an eco-friendly material.
Why Will You Like This Product?
Responsive to touch, this particular piano is durable and very useful to preoccupy a child gainfully.
4. Mallya
Ignite baby girl's imagination by selecting this toddler baby grand piano for her. Elegantly designed with a kid-friendly look, it replicates the look of a grand piano. It includes 37 electronically tuned keys with authentic and quality sound. This piano is the right choice for a karaoke session.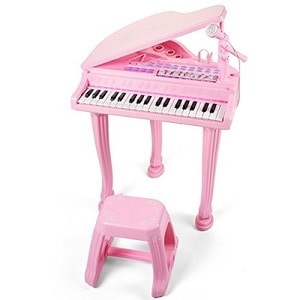 Pros
Pros
Comes with a detachable, sing along microphone and matching round stool.
Includes an educational mode that enables kids to learn how to play tirelessly following the red lights on the keyboard.
It includes 22 built-in songs, USB or Mp3 plug.
Record and playback functions, adjustable volume and automatic sleep mode option after a period of inactivity.
Cons
Cons
It is not eco-friendly as it is made of plastic
Why Will You Like This Product?
You can foster learning the basics of music early for your little child who is sure to look like a princess when she sits down to play her favorite notes on this pink piano.
5. Korg Tiny Digital Toy Piano
Let your child step onto a musical journey early in life with this digital piano.
Pros
Pros
It has 25 natural touch mini keys and 25 built-in sounds to deliver sound at a stable pitch.
It has 50 demo songs and has built-in speakers
Small in size that is easily transportable
Powered by AA batteries that are safely locked
Cons
Cons
The sound remains the same however loudly, or softly the keys are struck.
Why Will You Like This Product?
The fine quality and craftsmanship of this product are sure to prolong your child's playtime with this piano. Its superb sound quality makes it a must buy for your toddler.
Why Do We Recommend These Products?
Deciding on a new piano for your kid can be confusing for a parent. Based on the shapes, sizes, the range of keys, digital or acoustic, you can choose from the wide range of pianos that are available in the market. Nurture their desire to listen to music, play, and support their choices by giving them the opportunity to progress. Start from the simpler toy pianos and then upgrade to advanced pianos or keyboards that have diverse features, offer endless fun, and are a good match for your child's musical talent.