Best Books to Read During Pregnancy
Pregnancy is a life-changing experience for expecting couples. It is accompanied with various questions that crowd their mind and heart about themselves and the arriving new member of the family. At times these doubts are so frequent that one wishes they had something handy to refer to all the time.
Books on pregnancy often play that role very effectively. These books turn into a companion, advisor, anytime reference, and sometimes the best friend of expecting moms who are fraught with many worries, uncertainties, and questions.
Even the to-be dads can take recourse to some of these books specially dedicated to them and get their many doubts cleared. After all, it's not easy for him too!
Top Pregnancy Book

in 2019

These books are helpful at every stage of the pregnancy. It also keeps the mom busy with something to do during free time. So, instead of feeling gloomy and facing baby blues you can easily pick one of the best pregnancy books in the market to alleviate your anxiety and enjoy your pregnancy in a well-informed manner.
1. The Mama Natural Week-by-Week Guide to Pregnancy
You must have seen Mama Natural's infotainment videos on natural pregnancy and childcare. Boasting of 75 million views on YouTube, Genevieve Howland alias Mama Natural is now proud to launch a pregnancy and childbirth book. This is a week-by-week guide that is unconventional because of its focus on natural childbirth.
The book is based on up-to-date research about the benefits of natural birth for expecting moms and their babies. Howland also has a Mama Natural blog and YouTube channel on natural pregnancy. The book is based on real-life pregnancy stories of various women from different backgrounds. It also has expert advice from Certified Nurse Midwife (CNM) and Registered Nurse (RN), a birth companion (doula), and lactation specialist.
Pros
Pros
It has vital nutrition tips.
It suggests natural remedies for common problems.
It is well-researched.
Cons
Cons
The storytelling approach may not resonate with some readers who prefer practical, straightforward tips.
Why Will You Like This Product?
This book debunks many of the myths associated with natural childbirth. It has information that is based on proper research.
2. The Pregnant Body Book by DK (Author)
This book is very well detailed about pregnancy from the medical as well as the parenting perspective. It has information about pregnancy in general; it's evolution, anatomy, and physiology. This is one of the first time mom books that explores the changes in the body and the mind of the to-be mom in a detailed week-by-week manner. It is pictorially very rich with 3D artworks, illustrations, scans, and photography that display the stages of a pregnancy in a mother's womb vis-à-vis the impact and many adjustments and changes in her body.
Pros
Pros
The graphical representations render the book poignant and entertaining.
This book has an interactive DVD with amazing animations.
Cons
Cons
The medical facts are sometimes too detailed, and one cannot be sure about their veracity.
Why Will You Like This Product?
The book has 3D ultrasound pictures displaying the week-by-week development of the fetus. This brings alive the birth process in vivid details.
3. We're Pregnant! The First Time Dad's Pregnancy Handbook Paperback
Who says only expecting and new moms have baby blues? Even expecting dads have their good share of doubts, anxieties, and questions that cloud their head right from day one. It's even tougher for first-time dads where expectations are high to be supportive and patient.
This pregnancy book takes the daddy-to-be on a practical journey through the A to Z of common pregnancy problems, stress-busting tips to hands-on advice on how to go about things. Adrian Kulp, the author of this book also has a blog named 'Dad or Alive.' He is himself a dad of three and has some real-world and frank discussions and suggestions. It's a fun reading too!!
Pros
Pros
It has practical tips on how to support your spouse in both pre and postnatal days.
It sets hands on goals for the well-being of the newborn and the relationship of the couple.
Cons
Cons
It is loaded with adverts that are often distracting.
There could be a little more about post-partum weeks.
Why Will You Like This Product?
This book truly prepares the to-be dads and helps them understand how best to bear his bit of pregnancy responsibilities. It is a week-by-week guide with definite milestones and goals that make it well structured.
4. Belly Laughs: The Naked Truth about Pregnancy and Childbirth Paperback by Jenny McCarthy
This book has bare facts about the upheavals of pregnancy. It takes you on a ride through the days of tremendous highs to terrible lows. It makes you laugh through the pain and body changes that are women face during pregnancy. The author Jenny McCarthy gives comic relief to pregnancy pangs in open discussions.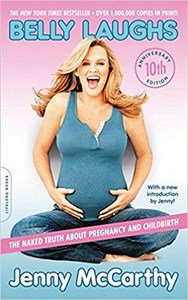 Pros
Pros
It is frank about many things that new moms may often feel awkward to discuss with others.
 It is hilarious all the time and keeps a woman smiling that is so healthy for her and the baby to come.
Cons
Cons
Some of the funny details seem a little over the top.
There seem to be some complaining bits that are often negative rather than funny.
Why Will You Like This Product?
This book is not a boring manual of facts and is good fun. It takes away the blues of pregnancy days with lots of laughs and oodles of information.
5. Everything You Ever Wanted to Know About Pregnancy
The author of this pregnancy journal book is renowned OB/GYN's Dr. I (Idries Abdur-Rahman, MD) and Dr. J (Jamil Abdur-Rahman, MD) of TwinDoctorsTV fame. This is an exhaustive 3-in-1 book with a built-in pregnancy journal and a birth plan. This makes it a complete resource for expecting couples. The topics it covers are the basics of pregnancy, labor, childbirth, etc. It also explores things that people want to know about but feels shy to discuss openly.
Pros
Pros
Fun and easy-to-read in a question-and-answer format.
 Can be combined with the Everything Pregnancy app.
Cons
Cons
It could be a tad heavy to carry around with a built-in journal and birth plan.
Why Will You Like This Product?
This book is comprehensive and exhaustive. It has an additional journal and birth plan along with it that you don't have to buy separately.
Why do we recommend these Products?
There is a world of pregnancy books out there. It is for you to decide which one suits you best. It depends on whether you like light and peppy reading, real-life case studies or very, practical straight jacket journals. Once you have decided on your type of book, just sit back and enjoy the reading.
Finally, once you have the book with you, please cross check with your doctor if you are implementing any of the advice shared in it. Your situation is specific to you and needs some expert guidance for any kind of things you implement for the safety of you and your baby to come.