Best Robot Dinosaur Toys for Kids
What is better than a good old dinosaur figurine that ignites the thirst for knowledge and the ability to grasp the essence of time in your child? A robot dinosaur, of course! As your kids grow older, they are no longer happy to play with stationary toys that stand on top of their shelves and want more to stimulate their growing minds. Robot dinosaur toys have it all. They are mobile, they are menacing, and best of all, your kids can control which way they go!
These toys fascinate and intrigue children and can bring out their imagination and creative talents when they pretend-play using the dinosaur toys. These toys can also improve your child's gross and fine motor skill development. The sound, lights, and movements are also fun and exciting for kids, and they will enjoy playing with the dinosaur toys immensely.
Top Dinosaur Robot Toys
Here we round up some of the best dinosaur toys in the market for you so that you can gift your child the most intriguing toy sets ever!
1. Fistone RC Robot Dinosaur Intelligent Interactive Smart Toy
This robot dinosaur does it all. Its touch-sensitive, intelligent interaction technology gives it life at the slightest touch. Not only does the figure play music and dance, but it also walks, shakes its head, wags its tail, screams like a real dinosaur would and makes sure your child is entertained and kept occupied for hours. Once in fight mode, the dino can even launch sucker bullets!

Pros
Pros
Running on an independent programme, the dino robot toy can remember up to 50 specific actions.
It comes with an infrared remote that makes sure that there is no delay in action following a remote command.
Cons
Cons
Some reviewers say that the movements of the dinosaur are comparatively slower than a regular remote-controlled toy.
Why Will You Like This Product?
This remote control dinosaur robot is a delight for children across ages. The entertainment is value for money and will occupy your child in a way that is worthwhile and educational for nearly an hour.
2. Best Choice Products 21in Kids Remote Control Tyrannosaurus Rex
This is every child's favorite species of dinosaur, the Tyrannosaurus Rex. With its hilarious smaller arms and fiery stance, the dinosaur robot is incredibly lifelike, and while it may be 10.5 inches in height, it's a great choice if your kid is a true paleontologist in the making.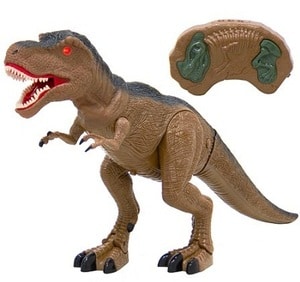 Pros
Pros
It comes with a fossil-shaped remote control that any child would be thrilled to use.
The eyes of the robot dinosaur toy light up in a fantastic red while it roars.
Cons
Cons
It needs a total of six AA batteries to run. While the three needed for the figure itself are included, the three for the remote control are not.
Some reviewers complain that the tail of this toy falls off quite often and may be difficult to attach back on.
Why Will You Like This Product?
Nothing will fuel your child's imagination like a toy such as this one, which looks less like a toy and more like a historically accurate, intricately made model of a real T-Rex. It even makes stomping sounds with each step! This is as good as dino robots get.
3. TEMI Remote Control Dinosaur for Kids
Less a dinosaur toy and more a stuntman, this toy moves frontwards, backward, sideways and even the whole 360 degrees. Not only does it roar, but it also has an astonishing variety of vivid roars. The toy also comes with attractive red lights that complement the impressive range of actions that the figure can perform.

Pros
Pros
It is built with an environmentally sound and non-toxic variety of plastic that has passed several regulation tests in the US.
The remote control toy can be controlled for a distance of up to 50 meters.
Cons
Cons
When charged for two hours, the toy can run non-stop for no longer than 15 minutes.
Why Will You Like This Product?
The 17-inches long robotic dinosaur is extremely easy to maneuver and a real treat for kids who love action figures. It is particularly suited for the action-loving tiny tot in your life.
4. O.B Toys&Gift Dinosaur Walking Toy Remote Control
Finally, a dinosaur robot for kids that does not come in a color that is dark. Don't be fooled by its light brown color and its non-threatening shape, this T-Rex roars with incredibly realistic strength and performs a wide array of actions at the press of the remote control button.

Pros
Pros
The dinosaur robot is made of sturdy plastic that is a hundred percent safe for kids' use.
The infra-red and cordless controller has specific buttons to control leg and head movements.
Cons
Cons
The walking is unrealistic, say some reviewers, while others complain that it often does not take place at all.
Why Will You Like This Product?
This robot dinosaur is incredibly fun and designed to maximize the experience of playing with remote controlled toys to include an educational playtime for curious children.
Why do we recommend these Products?
You only have to buy a dino robot to realize how much joy it can provide to a growing child with a mind that seeks to learn more. The kind of playing experience that combines the technology of the present with the shapes of the creatures which once roamed ancient Earth, these toys give your child the best of both worlds.
Dinosaurs are diverse and walked the earth for millions of years before dying out forever. Since then, they have been an incredible object of curiosity to little children. We know you would only give your children the absolute best when it comes to an education, so why not kick-start the process with a roaring, walking, swiveling relic from the ancient times!