Best Diaper Bag for Twins
Life is difficult for new parents, especially when you are heading outside with your little ones. You have to be prepared for everything — feedings, changes and even naptime. Twins are usually double the trouble, and no one knows it better than their perpetually tired moms. Diaper bags, which are usually designed to carry all the load possible, need to actually double their capacity to be fit for use by the parents of twins.
Top Rated
Diaper Bag for Twins
If you are shopping for the best diaper bag for twins, then this roundup of the most spacious, optimized, and comfortable ones in the market will help you make a choice.
1. Bag Nation Diaper Bag Backpack with Stroller Straps
Built with high-quality waterproof polyester, this diaper bag holds everything you can think of for your twin babies while leaving both of your hands free to handle the two. The supportive shoulder straps ensure you can maximize the use of your hands.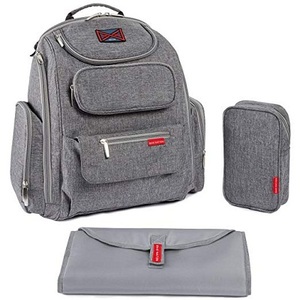 Pros
Pros
It comes with 14 pockets, so you can store everything from soiled garments to clean clothes and feeding bottles separately from each other.
A large changing mat that the bag comes with an act as a makeshift changing station anywhere and everywhere.
The bag has stroller straps that allow you to access its contents while it is attached to a stroller.
Cons
Cons
Some reviewers say the side pouch intended for storing wipes accidentally opens up the wipes' pouches.
Why Will You Like This Product?
Durable and suited for moms of two children with similar needs, this is the go-to diaper bag for a blissful day outside. One of the bag pockets is even insulated to store food!
2. Skip Hop Diaper Bag Tote for Double Strollers
A diaper bag especially designed and singularly devoted for use in a side-by-side double stroller for twins babies, this one comes with patented clips that let the all-purpose bag settle neatly in a stroller. This means, you no longer have to lug an enormous diaper bag around, whenever you are out with family.
Pros
Pros
The bag has an astounding 16 pockets — including a zippered slot for personal items, two pockets for bottles on the sides, and even a pocket for storing your cell phone! The combination of exterior and interior slots ensure all of your items are within easy reach, always.
This diaper bag for twins also has a removable strap which will allow it to be carried like a messenger bag, for the times when you need to let go of the stroller.
Cons
Cons
Some reviewers say the bag is too large to be comfortably carried around.
Why Will You Like This Product?
Stylish and absolutely meant to accommodate everything you can think of when it comes to babies, this bag makes sure that your hands are free to simply push the stroller when you are out with your twins.
3. Bably Baby Large Capacity Diaper Bag Backpac
A twins' parent is a tired parent who needs all the support she can get, which is why this backpack comes with a firm back and shoulder support that makes sure no matter how heavy the diaper bag gets, you are still comfortable carrying it. Spacious, with special packing cubes aimed at organizing items in a large space and insulated bottle slots, this diaper bag really does take care of your twins' every need.
Pros
Pros
The zippers are the same as the ones used in designer clothing, promising durability.
The bag comes with a pad for diaper changes, an easy-to-access pocket that acts as a wet wipes station and a dedicated 'adult' slot for a parent's laptop, keys and wallet.
Cons
Cons
A section of reviewers says the bag is unable to take too heavy a load and the seam can come apart.
A few reviewers find that the vertical orient of the bag requires some digging to get to the required item.
Why Will You Like This Product?
For a parent of two, getting overwhelmed with pockets and forgetting where you kept what is quite natural. With this backpack on your shoulder, you'll know exactly where you kept what and have everything at your arm's reach.
4. Hafmall Diaper Bag Backpack
A large compartment for the essentials, along with 13 other neatly separated storage pockets, ensure that the massively stylish backpack is a must-have for parents on the lookout for diaper bags for two. Built of durable polyester, the diaper bag is waterproof not just on the exterior but also on the inside.
Pros
Pros
The backpack is designed to be multi-functional and lends itself to personal use long after your twins have grown up.
It comes with a lifetime warranty and is easy to clean.
Cons
Cons
Some reviewers say that unzipping it with one hand is difficult.
The bottle pockets may appear small for a few baby bottles.
Why Will You Like This Product?
Sturdy and armed with multiple pockets, this bag is an obvious choice for the price it comes at. A wide open mouth makes sure you have everything inside visible while reaching for a particular item.
5. Boutique Chic Mommy Diaper Bag
This is the diaper bag to end your search for spacious, roomy diaper bags. With an inside canvas in a bright turquoise color, this compact yet amazingly space efficient bag makes sure you do not spend a lot of time looking for your twin babies' essentials in a time of need.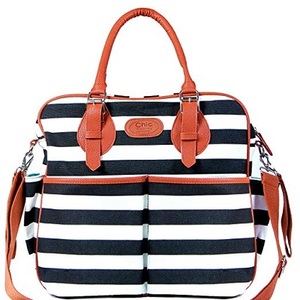 Pros
Pros
The Boutique Chic bag can be used as a tote bag, a messenger and even a stroller organizer.
It comes with a 90-day money back guarantee.
Cons
Cons
Some reviewers complain that the strap is prone to unbuckling.
Why Will You Like This Product?
Roomy but never bulky, spacious but not voluminous, this bag is the one you should go for if you are tired of carrying large bags around with your kids.
Why Do We Recommend These Products?
As a parent of twin babies, you have double of everything. Double the tears, double the morning rush, double the baby supplies and also double the laughter and double the fun. The best twin diaper bags recognise that mothers and fathers of twins have their hands full most of the time. The best choice will help you enjoy a day out with your little ones and make sure that your stress is minimized. So choose a bag that will help you ride out one of the most exciting times of your life in a fashionable, useful way!